Effects of rapid maxillary expansion on nasal cavity dimensions and airway resistance
Maria E. Tapia

University of Concepción

Ursula Brethauer

Private Practice

Patricio Ulloa

University of Concepción

Andrea Carcamo

Austral University

Felipe Culaciati

Las Lilas Clinic
Keywords:
Oral breathing, rapid maxillary expansion, rhinomanometry, airway resistance, maxillary development
Abstract
Background: Rapid maxillary expansion is a common treatment for posterior cross-bites that has also shown to improve nasal breathing.Methods: Thirteen oral breather patients with posterior cross-bite were studied. Treatment consisted in rapid maxillary expansion with a fully bonded appliance including a bite-block and a hyrax expansion screw. Before and after treatment, CT scans and active anterior rhinomanometry were performed to each patient. Data was analyzed with the non-parametric Wilcoxon statistical test and correlation between palatal expansion and increase of airflow in each patient was assessed.Results: The CT scan showed that transversal dimensions were significantly increased (P<0.001) in most areas after treatment, considering the right and left side separately. Rhinomanometry also showed statistical differences (P<0.001) in all parameters studied when compared before and after treatment. Positive correlation was observed between palatal expansion and increase of airflow.Conclusions: All patients improved oral breathing habit clinically and there is also statistical evidence that the nasal cavity increased its transversal dimensions, measured by CT scan and that patients increased their airflow through the nasal cavity, measured by rhinomanometry.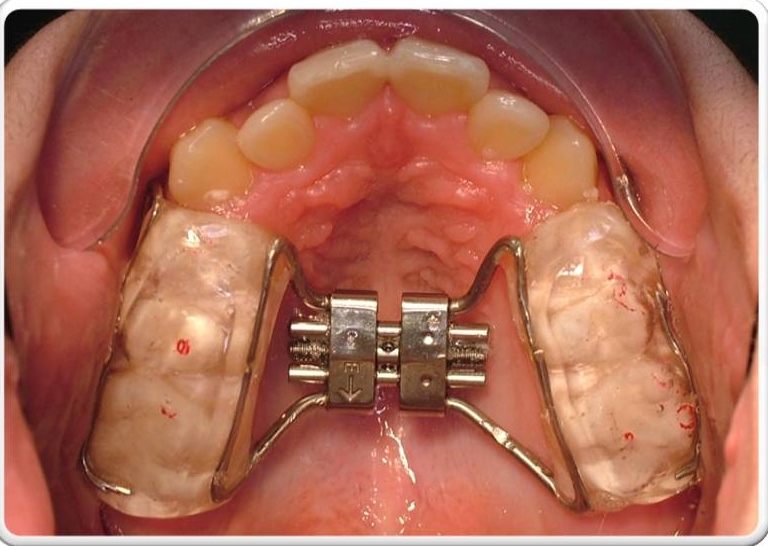 How to Cite
Tapia, M. E., Brethauer, U., Ulloa, P., Carcamo, A., & Culaciati, F. (2015). Effects of rapid maxillary expansion on nasal cavity dimensions and airway resistance. International Journal of Integrative Pediatrics and Environmental Medicine, 2, 31-39. https://doi.org/10.36013/ijipem.v2i0.18
Policy for Articles with Open Access

Authors who publish with this journal agree to the following terms:

Authors retain copyright and grant the journal right of first publication with the work simultaneously licensed under a Creative Commons Attribution License that allows others to share the work with an acknowledgement of the work's authorship and initial publication in this journal.

Authors are permitted and encouraged to post links to their work online (e.g., in institutional repositories or on their website) prior to and during the submission process, as it can lead to productive exchanges, as well as earlier and greater citation of published work.